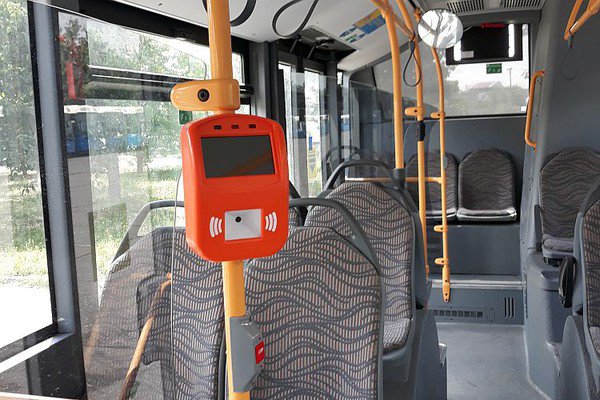 Published: 14.8.2020.
Ticket validators for JGSP Novi Sad as part of the NSMART system
Photo Credit: JGSP Novi Sad
The implementation of the NSMART system of electronic payment and passenger information began in Novi Sad (JGSP Novi Sad), and in the first phase of equipping buses operating on city lines, PENTA delivered 218 ticket validators, all in cooperation with the system integrator – Bus Logic Doo from Pozarevac, Serbia.
Penta ticket validator VAL-M5C is a robust and compact, latest generation device designed to use in electronic fare collection of urban and suburban public transport. The device provides a simple, fast and safe contactless validation of tickets as follows: RFID card (Mifare/Mifare Plus/Desfire), NFC enabled mobile phone,  1D/2D barcode ticket, contactless credit card.
With the concluded deal, the city carrier did not envisage an electronic fare collection system for all lines, but only for city lines, and the system will be subsequently upgraded for suburban lines as well. With the introduction of the electronic payment system, JGSP Novi Sad is replacing 50-year-old devices for issuing tickets, and modernizing the entire payment system, all under the slogan "NOVI SAD, SMART". The NSMART system implies an integrated IT unit that combines several functions in order to develop and increase the quality of public transport services, ways of managing the urban transport system, as well as the organization and efficiency of the company and cost control. The basis of the system is a smart NSMART card (contactless RFID card - personalized, non-personalized) with which passengers can easily and quickly use the public transport service. In addition to contactless cards, the ride can be paid for by issuing a paper and electronic ticket. Implemented system includes equipment for 105 public transport vehicles, which consists of BusLogic driver's computers, Penta Validators for passengers, GPS equipment for traffic monitoring and management, info Web, Android and iOS application for informing passengers.