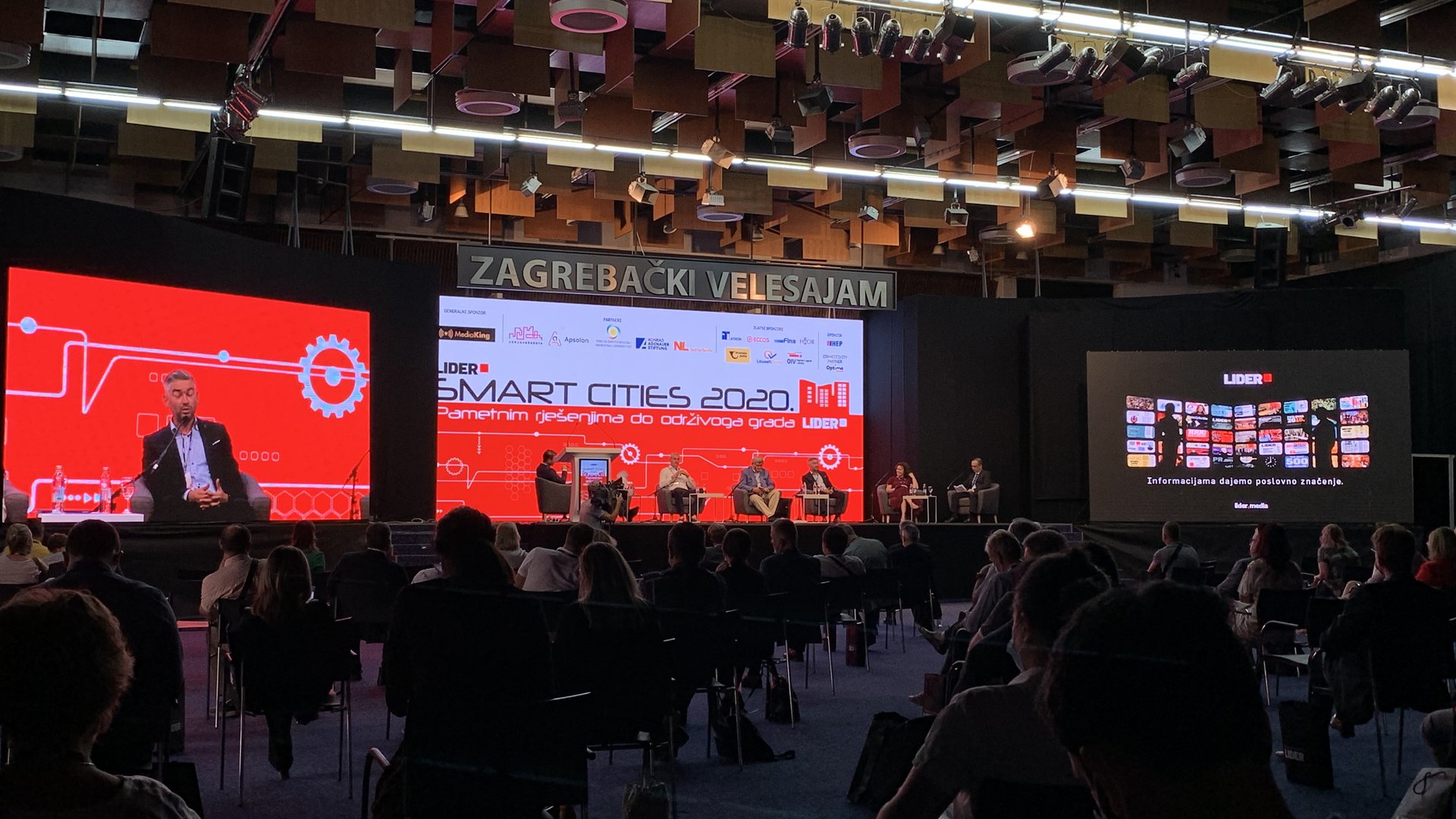 Published: 15.7.2020.
SMART CITIES 2020 "Smart Solutions to a Sustainable City"
After two postponements caused by the coronavirus pandemic, Lider's 6th Smart Cities 2020 conference "Smart solutions to a sustainable city" was held on July 9, 2020, in the large congress hall Gastro Globus of the Zagreb Fair. Compliments certainly go to the organizer Lider media d.o.o. who made sure that the conference met all the requirements of epidemiologists, measures and recommendations of the CNIPH and the Civil Protection Headquarters, which ultimately did not affect the program and its excellence.
At the very beginning, all present were greeted by Milan Bandić, Mayor of Zagreb, expressing honour and satisfaction on the topic of smart cities and innovative solutions that make cities sustainable. Leaders of Croatian cities (City of Zagreb, City of Rijeka, City of Pula, City of Karlovac, City of Zaprešić) presented innovative projects in implementation, open tenders, as well as projects planned in the coming period, all with the aim of improving the quality of life of their citizens.
We are incredibly pleased that PENTA has contributed to the concept of a "Smart City" of the City of Rijeka with its solutions through the implementation of the Rijeka City Card project, the first City Card project in the Republic of Croatia. The City Card is a multi-purpose card that makes everyday life easier for the citizens of Rijeka, saves time and money, and enables the faster realization of the right to use city services. One card enables the use of services such as public transport by KD Autotrolej buses, parking in Rijeka Promet parking lots, bicycle rental (Ričikleta, public e-bicycle system), borrowing books in the city library, and its payment functionality enables shopping at Diners Club points of sale. In KD Autotrolej, PENTA has also implemented the BusCARD system of electronic payment for transport and traffic management, where public company vehicles are equipped with driver computers, card validators, authorization and communication computers, passenger counters, robust handheld devices, associated software, traffic center wall panel and purposeful equipment as well as outlets. The concept of a Smart City is also being developed in the City of Pula, where PENTA has implemented a project of ticketing system modernization in public transport.
After the discussion "Innovation to sustainable cities", in a series of short presentations, the companies presented their experiences and smart solutions that lead to sustainability and a higher quality of life in cities. The conference also presented European cities, i.e. smart solutions from Austria (Vienna Smart City), the Netherlands (Helmond's Brandevoort district - "the smartest district in the world"), and Spain (Gijón Smart City). As part of the conference, a workshop "Participatory Budgeting - Increasing Transparency through the Smart City Concept" was held, where key points of participatory budgeting were developed through interaction with speakers from several cities and practical group work.